Featured Article
GOV'T TO INVESTORS: 'PARTNER PH, BUILD VALUE TOGETHER'
"Partner Philippines and Build Value Together" sums up the latest government campaign to encourage investors to ride on the ongoing Philippine (PH) growth story.

Speaking in a Dutertenomics forum, which includes the country's economic managers, on 10 August, Department of Trade and Industry (DTI) Secretary Ramon Lopez encouraged investors to partner with PH, which will help in creating additional value for their businesses that will boost income-generation operations.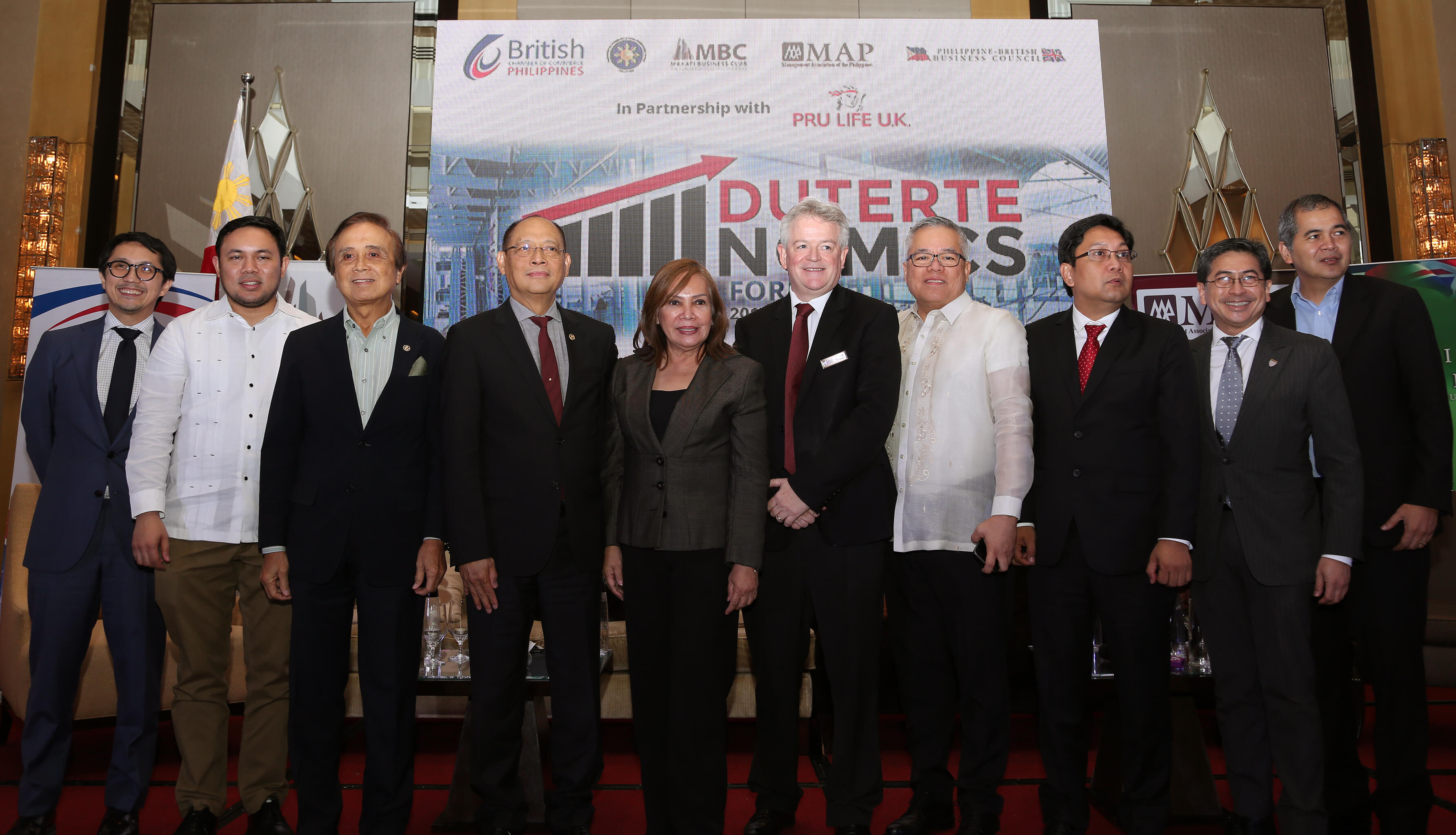 Dutertenomics. The Dutertenomics forum once again gathered the country's economic managers, including Public Works Secretary Mark Villar (2nd from L), Economic Development Secretary Ernesto Pernia (3rd from L), Budget Secretary Benjamin Diokno (4th from L), Trade Secretary Ramon Lopez (4th from R), Transportation Undersecretary Cesar Chavez (3rd from R), Bases Conversion and Development Authority President Vince Dizon (leftmost) with British Chamber of Commerce Philippines Executive Chairman Chris Nelson (6th from L) and members.
"The initiatives under Dutertenomics can help support investors by creating an environment where companies can do business swiftly and efficiently," said Sec. Lopez, stressing that ongoing infrastructure projects strategically link the country's industries, which will further power the growth of an already strong economic base.

"Build Build Build will facilitate greater trade and investment as it opens up access to new markets, while minimizing trade and logistics cost," he added.

According to the trade chief, investors can fully recoup their investments as their businesses enjoy the benefits of operating in a fully-industrialized and secure business environment. They can also enjoy PH's stable macroeconomic fundamentals, the educated English-speaking workforce, the demographic sweet spot that presents an enlarging consumer base, and wider market access thru preferential trade agreements.

"The hallmark of Dutertenomics is to attain growth with equity, that is, addressing inequality while reducing poverty across the regions towards improved quality of life for all," he added. Read more.
(Source: DTI Website)
Date Posted: August 11, 2017
DTI, TESDA INK MOA TO OFFER ENTREPRENEURSHIP TRAININGS FOR TESDA GRADS
As part of the agency's thrust to increase awareness on the positive gains of entrepreneurship, the Department of Trade and Industry (DTI) and Technical Education and Skills Development Authority (TESDA) link up to provide TESDA graduates with access to trainings on entrepreneurship to equip them with the necessary skills on entrepreneurship and employment.

According to DTI Sec. Ramon Lopez, acquired business skills by TESDA trainees from the Skills Training for Employment/Entrepreneurship Program (STEEP) can be used in effectively running their businesses in the future.

"This partnership not only complements our objective to equip our people with the right mindset and basic skills, it also contributes to our national goal to realize inclusive growth towards shared prosperity, powered by smarter Filipino entrepreneurs," Sec. Lopez said.

STEEP aims provide interventions through skills development by providing access to training on entrepreneurship to graduates of TESDA program for self or wage employment to uplift their economic status. Read more.
(Source: DTI Website)
Date Posted: August 11, 2017